About Us Information
Digital Spy Mobile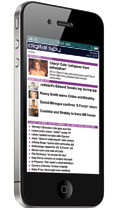 Get
Digital Spy
to go.
Our free mobile version offers all the content from our website in a format specially adapted for phones.
Get the latest entertainment news on your mobile by visiting
m.digitalspy.co.uk
for our UK edition or
m.digitalspy.com
in the United States.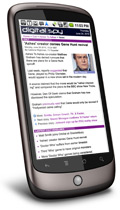 If you have an older phone, our WAP version at
wap.digitalspy.co.uk
offers brief entertainment news updates.
Just as on the web, our mobile versions are free and supported by advertising.
Most smartphones come with data plans included in the monthly charge, but please check with your mobile operator if you don't already use the mobile web.