You'll notice today that we've made some changes to
Digital Spy
. We really hope that you like the new look.
The site's traffic is greater than ever before; around 11 million people now visit every month (roughly the population of Portugal, fact fans).
And so it was time to update the website and bring in some new elements to make browsing your favourite TV, music, movies, games and media (and much more!) content even easier.
We've brought in more white space, introduced colour-coded site sections and modernised the fonts.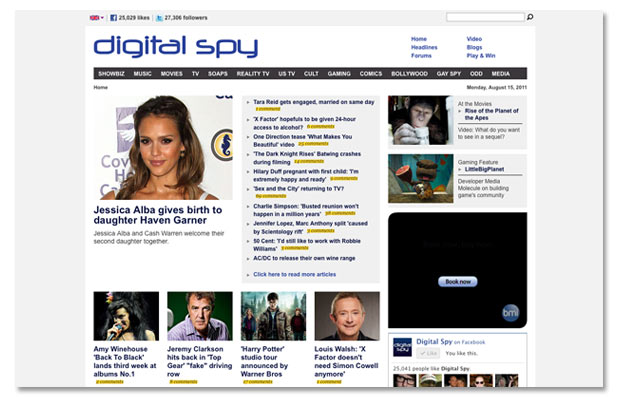 In response to your feedback, we've made video content more prominent on both the homepage and in articles. Over 2.2 million
Digital Spy
videos - exclusive interviews, world premieres of trailers and entertainment preview clips - are being watched every month.
You'll have noticed too that users' Comments now appear more prominently, adding a whole new dimension to the site and letting you know instantly where the biggest debates and hottest topics are.
We want our readers, passionate fans of entertainment, to be at the heart of
Digital Spy
and it's now easier than ever to log in with Facebook and join the discussion.
We've made the column on the right-hand side of the page more useful; think of it as packed with side dishes to accompany the main meal of whatever you're reading. The day's biggest news stories will now appear at the top, with further links related to whichever article you're on just below that. All of this should make it easier for you to find even more up-to-the-minute entertainment content to enjoy.
We've also updated the homepage to showcase the many features that run on the site beyond our news articles. Blogs, interviews, polls and regular bits like 'Playlist: 10 tracks you need to hear' and 'This Week's Must See TV' are all now easier to find.
Please bear with us while the changes go live. Initially, you might find some bugs, but rest assured that we're working behind the scenes to make everything perfect.
And please do let us have your feedback. All comments, ideas and suggestions are extremely welcome - email us at
feedback@digitalspy.co.uk
Thanks for reading
Digital Spy
!
David Moynihan, Editor
James Welsh, Co-Founder and Publisher
And all The Team