Once upon a time, Alex partook in a lot of
silly things
for the sake of the site. But since his promotion to TV editor, it seems the mantle of 'action man' has been passed onto our TV reporter Morgan Jeffery.
Exhibit A: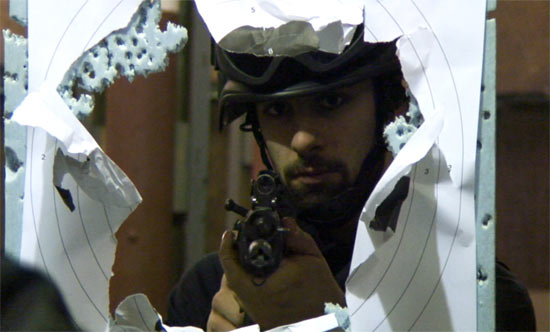 Morgan attended a SWAT-focused promotional event for the new US cop drama
Rookie Blue
, complete with coffee and Krispy Kreme doughnuts! After being firstly caught off-guard by the faux-kidnapping of the receptionist there, he went on to (very excitedly) fire guns and learn how to breach, check bodies, and sweep rooms - all while in SWAT gear. There was also a bit of hand-to-hand combat training (Morgan admitted to feeling good about overpowering guys significantly more physically intimidating than him), which included him being taught the art of 'snatching-the-weapon-at-gunpoint-and-pointing-it-back', as I like to inelegantly call it, seen in
Rush Hour
.
But it wasn't all the action that wore out our dashing trainee. It was a later photoshoot, where he had to hold and pose with a "surprisingly heavy" gun for ten minutes or so; he later complained of aching in his left arm. His reward for enduring the day was being treated to an advance screening of an episode of
Rookie Blue
- which it turned out had no relation whatsoever to the SWAT training. Still, SWAT training for no reason is cool, right?
Exhibit B: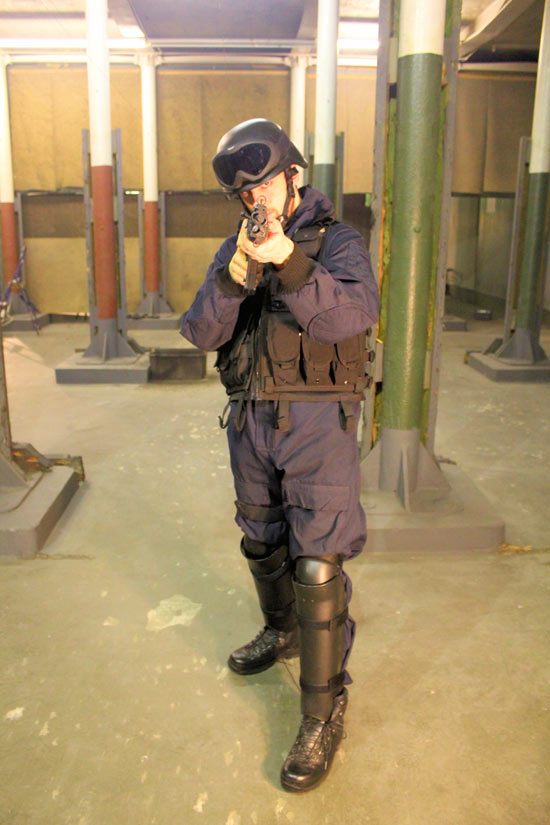 If that wasn't enough, the previous day, Morgan travelled all the way to Wales to visit the set of
Doctor Who
. They were apparently filming the third episode of the upcoming series, and he managed to have chats with Karen Gillan, Arthur Darvill,
Downton Abbey
's Hugh Bonneville (who was guest-starring as a pirate captain), and best of all, Matt Smith
in
full Doctor costume
on
the TARDIS set! Getting up at 5.30am has its rewards.
In other far, far less interesting news, free boxes of Haribo sweets have been scattered around the building. When I asked Mayer where they came from, he quipped: "I don't know. I just eat them."