You may or may not have heard by now, but our editor Neil Wilkes is leaving
Digital Spy
in a couple of weeks after more than a decade. In a foolish move (or genius for all us spectators), he'll be tackling a bucket list of four potentially demoralising tasks all in the name of charity. Videos will be eventually posted on the website, but here in this very blog, I'm extremely proud to announce that I managed to score
EXCLUSIVE (!!!)
pictures of Neil undertaking the first item: eating a buffet of delightfully sumptuous foods.
By "sumptuous foods", I mean barbeque-flavoured grasshoppers, sautéed reindeer and snails, naturally. As far as I could tell from my excellent vantage point, our stalwart hero didn't particularly enjoy feasting on anything except for the bacon chocolate (yes, that actually exists, and we all rather liked it except for Cat, who likened it to "dog food"), but the worst had yet to come. For the final item, Chris unveiled the (alleged) "world's hottest chilli". Neil took a reasonable bite out of it.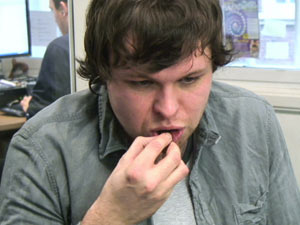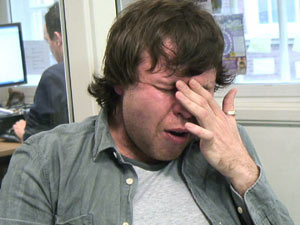 No amount of water, red wine or yoghurt could quell the burning inside his mouth. He was even sweating like crazy.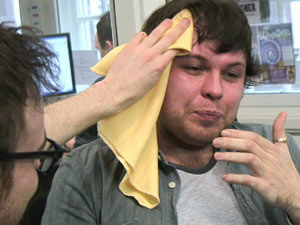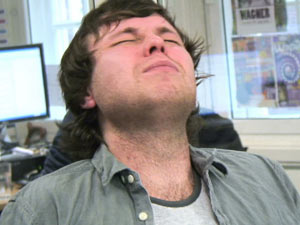 If you, like me, are revelling in Neil's suffering, please do send donations to his chosen charities by following
THIS LINK
. This afternoon, we're going to wax his legs as painfully as we can.
Elsewhere, Cat met
The Wire
's Dominic West when she visited the set of his latest show
The Hour
- much to the envy of Morgan, a massive
Wire
fan. Last night, Alex went to watch the finale of
The Biggest Loser
UK, saying: "I may have eaten so many sausage rolls in the green room that I need to take part in the next series." And finally, Alex also attended the Brits afterparty, reigniting his love affair with Stuart Baggs. If only that was caught on camera.