The big event this week was Wednesday's BAFTA Video Game Awards, and we sent two of our guys, gaming editor Matt and reporter Andrew, along to cover it. Matt sat next to TV presenter Michael Underwood throughout the ceremony, and commented that he was a really nice guy and a huge games fan. Both Matt and Andrew had only good things to say about host Dara O'Briain, but Andrew did mention that the large variety of celebrities was a bit jarring - starting with the old
Top Gear
Stig and ending with Sir Ben Kingsley, who presented Peter Molyneux with the 'BAFTA Fellowship' award.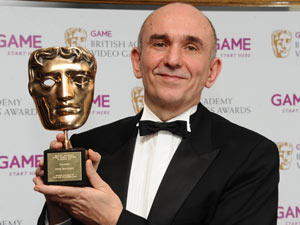 Matt was pleased with the winners (
Heavy Rain
won three prizes), despite
Limbo
not scooping anything. He was particularly chuffed that
Mass Effect 2
won the 'Best Game' BAFTA, a sentiment shared by myself, and he even got to hold that very trophy during the after-party: "It was really bloody heavy!"
Elsewhere, Tom had a chat with the Irish duo Jedward, with the dashingly burly (hyperbolic?) multimedia producer boasting by the end that he could tell the difference between the twins - but only if they were side-by-side, which seems a bit of a cheat to me! Tom accompanied Alex to interview
The Wire
's Idris Elba on camera as well, prompting him to tweet: "Just put a wire on Stringer Bell." (Ba-dum tish.) A less laid-back Alex told me via chat: "I spoke to IDRIS ELBA! He was soooooo cool!"
That wasn't the only television interview Alex carried out this week, as he also conversed with Sam Faiers of
The Only Way Is Essex
and
Downton Abbey
's Hugh Bonneville. Faiers was delightful to talk to, and the pair even discussed pejazzling (tip: don't Google that). And Bonneville, according to Chris who tagged along that day, was the nicest celebrity they've had the pleasure of speaking with for a long, long time.