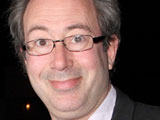 Ben Elton
has teased a selection of Australian stars in a new promotional video.
The British comedian, whose
Live From Planet Earth
series will soon launch on Channel Nine in Australia, mocked television personalities Bert Newton, Andrew Denton, Daryl Somers and Eddie McGuire in the short advert.
In the promo shown on
YourTV
, Elton can be seen discussing how to appeal to the Aussie audience with his producer, saying: "I could wear a Bert wig. Or how about I do a Daryl and bring on a comedy bird?
"I could go all Andrew Denton and interview the Dalai Lama. How about I go Eddie McGuire and go on about football?"