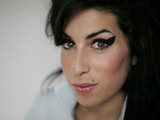 Chelsie Preston Crayford
has revealed that she used Amy Winehouse as creative inspiration.
The actress, who plays crime queen Tilly Devine in the latest series of Australian TV drama
Underbelly
, said that she based her audition for the role on old footage of Winehouse's interviews.
Crayford told
National Features
: "When I auditioned, I didn't really know where to begin. There wasn't any audio recording, but I imagined Tilly had a really low voice and I don't, sadly. So I watched a whole lot of Amy Winehouse interviews and based my audition on that. I felt like Amy really embraced this brash, doesn't-give-a-toss-what-people-think, ballsy attitude."
The star added that she hopes that viewers see beyond her character's brassy front to catch a glimpse of her soft side, saying: "That's what human beings are - we're all a bundle of contradictions. Nobody is all good or all bad. I want more characters who are grey."
Crayford also said that she is pleased to have worked on this "unusual" season of
Underbelly
because the storyline concentrates on "strong female characters... [with] beautiful complexities", but added: "It's not
Sex and the City
".
Despite being "excited about the job", Crayford admitted that "every female who auditions for
Underbelly
has to agree to everything but penetrative sex". However, she added that she has "dodged [a] bullet" in that she does not have any nude scenes.
Shortly after the fourth series of the crime drama was
announced by TV bosses
, members of the cast including
Sea Patrol
's Jeremy Lindsay Taylor were
spotted filming
in Sydney.
Underbelly: Razor
premieres on Sunday at 8.30pm on Channel Nine.
Watch the trailer for the latest
Underbelly
series below (contains shocking images):