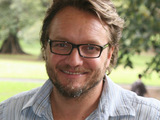 Jeremy Sims
has claimed that he always gets bad boy roles.
The Australian actor, who has previously starred in
Home and Away
but is currently playing Frances Fuller in
Wild Boys
, said that his mum doesn't understand why the characters he gets are always tough.
Sims told
Spectrum
: "She does wish I'd play a nice boy just once. [In
Wild Boys
], I'm the scariest character."
He described
Wild Boys
as "a rip-roaring Australian drama set during the gold rush, with bushrangers, traps and plenty of beards", adding: "It's got lots of horses. Horses being ridden really fast. Oh, all the guns are real, too, and they fire, and we fire them a lot. Did I mention it's got horses?"
Sims said that he struggled with horse-riding on set, as he had never been an equestrian fan before, even joking that his horse called him "idiot".
> Wild Boys co-stars MacPherson and Ventoura dating?
> Daniel MacPherson and Ventoura admit "strong chemistry"
Talking about his character, Sims said: "He's a tough-love law bringer. He doesn't see bushrangers as naughty boys, he sees them as killers and thieves whose behaviour threatens anarchy in a land that is already too hard to govern. So he is going to hunt them down - if it's the last thing he does."
Sims's
Wild Boys
co-star Anna Hutchison recently revealed that she was "
excited" to play the role
of Emilia Fife, the daughter of a wealthy town mayor, because it is so "different" to her role in
Underbelly
.
Wild Boys
recently beat the latest series of
Underbelly
in
viewer ratings
.
Wild Boys
airs on Sunday nights at 7.30pm on Channel Seven. Watch the trailer below: