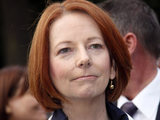 Australia Prime Minister
Julia Gillard
has revealed that she is not interested in watching a parody series about her.
Last night's
controversial episode of At Home With Julia
saw the Prime Minister - played by Amanda Bishop - and her partner Tim in a post-coital embrace draped in an Australian flag on the floor of her Parliament House office.
Gillard told
ABC
Radio: "I'm not intending to watch tonight's episode. I've got more to do. Aspects of that first episode were funny, but seriously, I've got more to do than sit around watching ABC TV."
The prime minister insisted that she does have a good sense of humour, but said that she will not be giving any further comments on the programme.
A number of politicians have expressed outrage at
At Home With Julia
. Nationals MP John Forrest said: "I am offended, and we should take a stand," while Liberal MP Bronwyn Bishop described the series as "tasteless".
Greens senator Sarah Hanson-Young also said: "It's not particularly funny. I tried watching it and I fell asleep. Satire is, at the end of the day, meant to really engage you."
Federal Treasurer Wayne Swan added: "I don't mind programmes taking the mickey out of politicians but frankly, I think this one is a bit low rent."
An ABC spokesperson hit back at the show's critics on Tuesday, saying: "If it's okay for others to drape themselves in our flag for all manner of occasions, I really don't see why it can't be draped over our prime minister as a symbol of love."
Watch a clip from
At Home With Julia
below (contains some strong language):