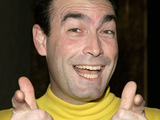 Greg Page
has revealed that he is "excited" to be rejoining The Wiggles.
The 40-year-old star, who was part of the original lineup of the children's entertainment group, took five years off from work after being struck down by a rare medical condition but has now returned.
Page said in a statement published by
The ABC
: "I'm excited to be back with my friends and to be entertaining our incredible fans again.
"I didn't get a chance to say farewell last time, so this is an opportunity I couldn't refuse. I'm feeling great and looking forward to doing what I love."
Page was replaced by Sam Moran after suffering from fainting spells and chronic fatigue. He was later diagnosed with dysautonomia, a condition affecting the nervous system.
Moran, who has reportedly offered to step aside from the group in order to spend more time with his wife and 2-year-old daughter, said: "I am very proud of my five years as the yellow Wiggle and the group's continued success with me as their lead singer."
Manager Paul Field added: "We thank Sam for his wonderful contribution to the group for the past five years. He joined at a difficult time for Greg and the group, and we're so grateful for all he has done.
"Sam is a gifted singer and we're pleased that Wiggles Productions will continue to support him by making Hot Potato Studios available to him for future projects."
> Kylie Minogue, The Wiggles enter ARIA Hall of Fame
> Greg Page felt like "failure" after losing money