0
Australian TV News
'My Kitchen Rules' star Jennifer Evans: 'I'm pregnant'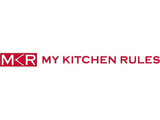 Jennifer Evans
from
My Kitchen Rules
has announced her pregnancy.
The 25-year-old wannabe chef, who is married to Wayne, said that she was shocked to discover that she had conceived a child while filming the Seven Network reality cooking series.
Evans told
New Idea
magazine: "We were not trying because I was concentrating on
My Kitchen Rules
and I wasn't thinking about anything else. Then I missed my period and just ignored it completely, so we found out quite late. I didn't really get that excited because I knew anything could happen. So we didn't tell anybody."
The star said that she is convinced the baby is a boy, while her husband believes it to be a girl. She added that whatever the gender, their child will be spoilt, saying: "[It] will have little designer booties and clothes."
Evans revealed that she will teach her child to have the same passion for food as her, saying: "When I was younger, my mum cooked almost every meal for me. I will try to do the same. I want my kid to be really adventurous with food. I want my kid to eat everything."
Admitting that she is "really scared" but "excited" about the birth in July, Evans said that the most important thing is for her baby to be "100% healthy and a good person".
Evans was recently
subjected to cyber-bullying
after
My Kitchen Rules
began, but admitted that
she would have "hated" herself
if she had been a viewer of the show.
Watch Jennifer Evans on the February 1 episode of
My Kitchen Rules
below (Australian users only):