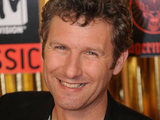 Adam Hills
has revealed that he will be hosting Australia's first ever 'mass same-sex TV wedding'.
The comedian, who has previously worked on
Spicks and Specks
, said that he hopes the show will lend support to the gay marriage debate currently raging in his country.
According to the
Herald Sun
, 20 couples have registered to take part in the event, which is scheduled to take place on March 26 and will be broadcast on March 28. More couples are expected to sign up over the next two weeks.
Hills said: "Same-sex couples may not be able to legally marry in Australia yet, but they sure as hell can have a great big TV wedding."
British comedian Stephen Fry, who has previously spoken out for marriage equality, has reportedly sent Hills a message of support.
> 'A Few Best Men' director Stephan Elliott comes out as gay at AACTAs
Hills apparently decided to make the wedding show after he asked the audience on
Adam Hills in Gordon Street
which law they would introduce, and the majority said that they would legalise same-sex marriage.
Last year, Lady GaGa
begged her Aussie fans
to make prime minister Julia Gillard "hear their screams" about equality and same-sex marriage.
Australian comedian Magda Szubanski, who recently
came out as lesbian
, also said that
she is "1000% in favour of gay marriage"
.
Many of the floats at this year's Mardi Gras
campaigned for Australian lawmakers to legalise gay marriage
.
> Magda Szubanski: 'I had suicidal thoughts when I realised I was gay'