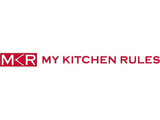 Eliminated
My Kitchen Rules
contestant
Thomas Carr
has hit back at his critics.
The wannabe chef from Victoria, who
was voted out
of the cooking reality television show alongside partner Carla Mangion, insisted that they are kind people despite the controversy they caused when they
strategically voted out
two other contestants.
Carr told
AAP
: "Carla and I aren't sneaky people. We're actually just lovely people.
"When we voted strategically against Emma and Andrew, the first thing we did the following morning was go up to them and say, 'We gave you a one'. We were totally honest with them. Anyway, it makes good television.''
> 'My Kitchen Rules' Emma and Andrew hit back at strategic voting
Carr added that he and Mangion have received a lot of criticism about their food online, but he is not bothered because he had no cooking experience before going on
My Kitchen Rules
.
"Occasionally when I go on the forums there's people saying that we can't cook,'' he said. "I just sit back and think, 'If you only knew what I think of my own cooking'.''
Carr also revealed that the duo didn't enter
My Kitchen Rules
to get rich, saying: "When we entered the competition we weren't there to win the money. We were there for a great experience, to travel the country, to learn about food and to make new friends.''
> 'My Kitchen Rules' contestant Carla Mangion reveals new relationship
Watch Thomas Carr and Carla Mangion's highlights on
My Kitchen Rules
below (Australian users only):