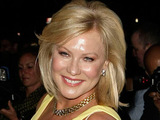 Kerri-Anne Kennerley
has revealed that she views the Australian television industry as shallow.
The television personality, who
was axed
from her own breakfast show earlier in 2011 after almost 10 years on air, said that Australia lags behind other countries in that it doesn't realise presenters don't have to be young and beautiful to appeal to viewers.
Kennerley told the
Herald Sun
: "It doesn't take a brain surgeon to know there are a lot of older, uglier blokes [on TV] compared to the young, fab and gorgeous things... unfortunately, women will always be judged.
"You will be judged on your hair, or your lipstick, your make-up, the way your shirt sits, the colour of your outfit.
"Without question, there are more women in US TV over 40, over 50, even over 60, than Australian TV. But American TV is vastly different, because America has 300-odd million people with a whole chunk of those who wouldn't tolerate it."
Kennerley said that she respects the "Joan Collins and the Jane Fondas of the world" because they were "serious actors and seriously beautiful women" who were not "marginalised" as they aged.
She added: "Those women made it easier for women who were 10, 20, 30 years younger, and every year [the age] will go up just a little bit, up just a little bit."
Kennerley described these women as "hungry" and "demanding", saying that they "pushed it and they made it happen". However, she added that she tries not to "feel sorry" for herself for what has happened to her in her career.
> Kerri-Anne Kennerley: 'There's no point crying over TV axe'
> Kerri-Anne Kennerley "really excited" for 'Dancing with the Stars' Aus