0
Australian TV News
'Winners and Losers' Melissa Bergland: 'I'll be nervous for Logies'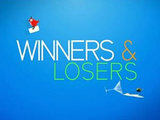 Melissa Bergland
has revealed that she will probably be nervous at this year's Logie Awards.
The Australian actress, who
is nominated
in the 'Most Popular New Female Talent' and 'Most Outstanding New Talent' categories at the annual ceremony for her role in
Winners and Losers
, said that her dress for the event has not even arrived yet.
Bergland told the
Herald Sun
that she ordered her gown online from Finland, saying: "It was kind of a last-minute thing, I saw it and I was like, 'Where do I have to get this from?'
"How long does it take for things to come from Finland? So it's kind of a race against the clock to see if the dress gets here on time. I've got a few back-up options."
She said of her nomination: "I don't think it's actually going to hit me until 24 hours before, and then Saturday night I'll be like, 'Oh my God'. I have a list of must-mentions, but I haven't written anything out and I don't know what my chances are."
Winners and Losers
is nominated for 'Most Popular Drama Series' at the Logie Awards, while Bergland's co-star Tom Wren is up for the 'Most Popular New Male Talent' prize.
> 'Winners and Losers': Australian drama to air on ITV
> 'Winners and Losers' to return for second series