Reality TV News
'H&A' star 'trying to put on weight'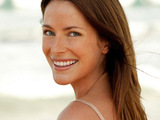 Esther Anderson
has revealed that she wants to put on weight.
The Australian actress, who plays Charlie Buckton in
Home and Away
, said that her recent
dramatic weight loss
while filming
Dancing With The Stars
was completely unintentional.
Anderson told
The Daily Telegraph
: "No one likes seeing an unflattering photo of themselves. The main thing is, being on
Home and Away
automatically you become a role model for young girls.
"I don't want young girls to look at me and think I'm trying to be skinny and that I think protruding ribs look good, because I don't. I would love to be a lot more curvy.
"I am naturally petite and have never been a big exerciser, so add my petite frame to 20 hours a week of dancing... every single person who goes through the show says they have lost weight. I am just trying to eat and eat and eat."