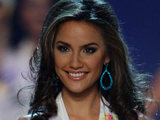 Rachael Finch
has been connected to the hosting job on
Dancing with the Stars
Australia.
The former Miss Universe Australia - who
met fiancé Michael Miziner
when she was partnered with him on the Australian reality show in 2010 - has been linked to the role. Previous host
Sonia Kruger recently quit the show
to join the Nine Network.
Dancing with the Stars
Australia judge Helen Richey told the
Herald Sun
that it would not be easy to fill the "huge" void left by Kruger, but said that she had her doubts about Finch.
"Rachael's a lovely girl," she said. "Whether she might be perhaps a little too young... I think you need somebody perhaps with a little bit more maturity but she would still be fine.
"I'm sure whoever they get will be great. I've heard all sorts of rumours. Sonia was perfect for that job, but especially because she was a dancer. I used to find her sense of humour funny."
Richey, who has sat on the
Dancing with the Stars
panel for eight years, joked that working with fellow judges Todd McKenney and Josh Horner makes her "feel like Cinderella between the two ugly sisters".
She was spotted watching Roger Federer play in the Australian Open yesterday, saying: "I love Federer, absolutely love him. [He's] an absolute gentleman, could not be better for his profession and [is] just a really lovely man."
> Sonia Kruger to take over Kerri-Anne Kennerley's show?
> 'Dancing with the Stars' Australia's Sonia Kruger launches fashion label