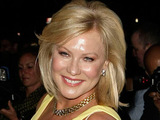 Kerri-Anne Kennerley
has said that she has moved on from her TV sacking.
The 58-year-old former breakfast television host, who was
recently announced
as part of the line-up for this year's
Dancing with the Stars
, said that she was hurt when
her TV show was axed
but admitted that there is "no point" in dwelling on it.
Kennerley told the
Sunday Herald Sun
: "Oh, grow up, I've never been the sort of person to do the teary thing. To be quite frank, I don't do that and I probably don't tolerate it in a lot of other people. And there's no point crying over spilled milk. It's 'done and dusted' and move on.
"It's sometimes nice if the circumstances were ever so slightly different, [but] I had a fantastic time for nine years. Who would feel sorry for someone who had a fabulous time doing exactly what they wanted to do, who got paid well? Let's be frank, I got paid to have a fabulous time and I'm still having a good time."
Kennerley added: "I've never been the sort of person to dwell on looking backwards. The rear-vision mirror is not the way I've led my life; you hit a couple of speed bumps and that's fine.
"I didn't find [it] nearly as bad as obviously a lot of people thought I did."
Kennerley did however admit that she didn't think it would have been "too much" for the Nine Network to show her "a little courtesy" when they cancelled her show.
She also credited her mother with giving her her "drive" and "focus" in life, explaining: "I've seen by example that application is the key to success. I get that strength from [my] mum, there's no question.
"Mum's 90 and she is still as strong today as she was then. I'm very glad I had that [serious work ethic] instilled in me, all of us did."
> Kerri-Anne Kennerley "really excited" for 'Dancing with the Stars' Aus
> Sonia Kruger 'backs Kerri-Anne Kennerley in Dancing with the Stars'