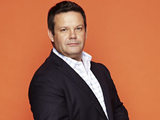 Gary Mehigan
has credited his wife with his success.
The
MasterChef
judge, who has a 10-year-old daughter named Jenna with wife of 20 years Mandy, said that she "keeps everything going" in their household while he is busy filming the show and running his restaurant.
Gary told
Woman's Day
magazine: "I couldn't do it without her. She keeps everything going. But when I'm home, I cook and I love that."
The couple met when they were "penniless" students in England. "I fell in love with her straight away," Gary said. "It was those big blue eyes of hers." Mandy added: "What appealed to me was he was just a genuinely nice person. I mean, he was a boy when I met him, but he was very genuine and loving - that's never changed."
Mandy revealed that her husband used to work "incredible" hours, but added that it never mattered because they were "meant to be".
She said: "Some couples grow apart when they get together so young, but we've grown together and it works for us. I think the key is talking. I never lie to him."
Gary admitted that his daughter is always asked if her dad is "the guy on
MasterChef
", adding: "Sometimes she just says, 'No, he's not. You've mistaken him for someone else.'"
Since Kate Bracks was
crowned the winner
of this year's
MasterChef
in Sunday night's finale, Gary said that he would like to
see the show drop down to three episodes
a week next year in case they "kill" it by airing it too often.
Watch Gary Mehigan announce Kate Bracks as the winner of
MasterChef
2011 below (Australian readers only):