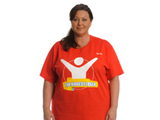 The Biggest Loser Australia's
Brenda Hunt
has revealed who she thinks is playing the game in the house.
The 40-year-old from Sydney, who was
voted out
of the weight loss competition earlier this week after being put up for elimination against Alex Zorzi, said that teammates Margie Cummins and Lydia Hantke definitely have a strategy to try and win the show.
Hunt said in her official
elimination interview
: "Margie and Lydia aren't the most popular people in the house and part of their reasoning for me going up - whether they really believed this or not - was because I got along with people, so I'd have a better chance of surviving.
"A few people in the house had heard Margie and Lydia saying that they were going to put me up whether I had a bigger weight loss or not, so as soon as we went below I got extremely upset because I knew what was about to happen."
> 'The Biggest Loser' contestant chooses money over show
Hunt insisted that she is not angry that white team member Rebekah Gilchrist chose to go against their verbal alliance and vote her out, saying: "Bek was really upset, apologising over and over. [If] I was up against Alex, I would've done the same thing. It's a hard thing being on the other side of the table; I don't hold anyone personally responsible."
The star said that there was a lot of "feeling people out and working out who the stronger people in the house were" when they first started filming, adding: "Luke [Stephens] initially was very friendly with everyone, he was very friendly with me, then he realised that Lydia and Margie were the strongest females in the house and all of sudden became their friends."
Last week,
Shane Edwards left
The Biggest Loser
, shortly after
previously eliminated
contestant Selena Brown was
brought back
into the competition.
> 'Biggest Loser' star Simon's ex "disgusted" at his marriage claims