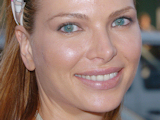 East London model
Dune Kossatz
has been announced as the winner of the Miss Bollywood IPL South Africa competition.
The 34-year-old was awarded a specially-designed crown encrusted with gold, silver and diamonds at a ceremony at the Monte Casino in Johannesburg on Sunday morning.
Kossatz, who plans to learn Hindi, will also be given the opportunity to perform a screen test opposite Bollywood star Shah Rukh Khan after picking up more votes than the other 15 finalists.
Following her coronation, Kossatz praised the competition: "I think it's really great! I think we should all stick together and love one another and be respectful and tolerant of each other."
However, Kossatz was left disappointed on the field as her team the Chennai Super Kings lost to the Royal Challengers Bangalore in the IPL semi-finals.