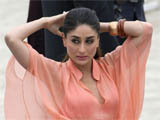 Marriage would make
Kareena Kapoor
less appealing at the box office, according to a new survey.
A
Times Of India
poll found that 58% of readers believe that marrying fellow actor Saif Ali Khan might spell the end of her Bollywood career, as she will become unwilling to play alluring roles.
In an interview with the newspaper earlier this month, Kapoor said that she was in the best years of her career and wants to
wait
before getting married.
Industry figures argue that actresses worry about offending extended family. They are also seen as less 'sexy' because their age is more evident after marriage and childbirth.
Director Madhur Bhandarkar said: "The lifespan of an actress is short-lived. In a male-dominated industry, it takes at least three to four years to break through. Once an actress tastes success, it's hard to resist the glamour bug, which is why most heroines talk marriage after they've crossed their prime or delay marriage if they're young and seeing someone.
"Ironically, married heroes like Aamir or Shah Rukh Khan are considered cool, but once a Priyanka Chopra marries, she may be offered the role of a bhabhi [aunt]."
However, Kareena's actor sister Karisma Kapoor cites the example of her sister's future mother-in-law, Bollywood legend Shamila Tagore.
"Does anybody in Hollywood ask Julia Roberts and Meryl Streep, who make one film in five years, whether they're coming back? Sharmila Tagore delivered some of her biggest hits after her children were born."