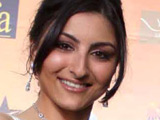 Soha Ali Khan
's first British film has been given a theatrical release date.
The Sangeeta Datta-directed project, which was shot in London in 2009, will now release in the UK next month.
The actress spoke about sharing screen space with her real-life mother, veteran actress Sharmila Tagore, saying: "I wanted to share some filmography with her. In India everyone always says, 'When are we going to see you and Sharmila-ji on screen, or you and your brother?'"
The
99
star added: "The script was written in such a way that I thought a real-life mother and daughter duo would add to the film."
The production, which is said to be loosely based on Shakespeare's King Lear, also features Indian film actors Om Puri and Girish Kanard.
Life Goes On
arrives at the UK box office March 11.