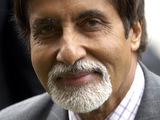 Amitabh Bachchan
has announced the UK launch of his celebrity voice blogging service.
Bachchan Bol, which has attracted 2.5 million users since its launch in India
, allows subscribers to hear the actor share his daily thoughts by dialling a dedicated number.
The veteran star explained: "Bachchan Bol empowers me with a personal platform on which I can connect and 'speak' directly with my fans across the country anywhere and anytime.
"From my films to my family, from my country to my city, you will be able to hear about it all, in my own voice, in my own diary, direct to you on your mobile phone."
A spokesperson for Inside India, which specialises in licensable content and entertainment from Indian celebrities, outlined: "We know the power of Indian entertainment and we are firmly embedded in the innovation of technology and the digital world.
"Combining these two elements we are paving a new way for social networking, starting it in the world's most exciting country and taking it across the globe."
The launch is scheduled to take place at a London hotel, with the
Sholay
star in conversation with presenter George Lamb.
The 68-year-old BBC Star of the Millennium revealed last year that
he has no plans to retire
.
Bachchan Bol will be accessible by dialling 85525 from a mobile or landline phone.