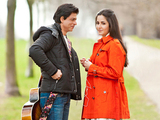 Katrina Kaif
has announced plans to meet fans at a special screening of
Zindagi Na Milegi Dobara
.
The event is scheduled to take place at Bucks New University in High Wycombe on Saturday, after shooting completes on her
upcoming Yash Chopra film
.
"I'm very much looking forward to attending this film screening at Bucks New University. I love the UK, as I'm originally from here, and I always have a great time when I'm back here. It's so lovely to meet my fans and to see just how popular and loved Indian cinema is in the UK," said the star.
The fundraiser has been organised by Kaif's brother Michael to raise funds for Bucks New University B.A. Furniture Design and Craftsmanship students, in order to stage a new exhibition.
Kaif, who will take part in a Q&A with fans, told
Digital Spy
: "It is for a great cause and the students have worked really hard in an industry where - to be completely honest - there isn't the scope to always earn a lot of money in it.
"It is something they do out of passion. It is an artistic expression, and I can understand that and relate to that in some way, so I think it is something good to support."
The actor said that she plans to fly back to India the following day, to continue filming commitments with Salman Khan on
Ek Tha Tiger
.
Katrina Kaif will attend an exclusive screening of
Zindagi Na Milegi Dobara
at 7.30pm on March 24 at Bucks New University in High Wycombe, UK.
> Read Digital Spy's Katrina Kaif interview here