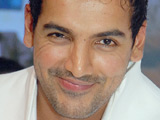 John Abraham
has admitted that he has no immediate plans to get married to his girlfriend.
The actor has been dating investment banker Priya Runchal
since his split with Bipasha Basu
.
He told
The Times of India
: "You know honestly, I really don't know [when I'm getting married]! But I (like to) spend a lot of time with my family. In this hustle and bustle of trying to reach somewhere, that's the best thing.
"We are all family people at the end of the day. All of us like to go back to our parents, so I spend time with my mum and dad because they are the most important people in my life."
In April, Abraham announced that he
is planning to marry Runchal later this year in a low-key ceremony
.
Ex-girlfriend Bipasha Basu recently said that she had
yet to meet the right man despite links with actors including Shahid Kapoor and Rana Daggubati
.