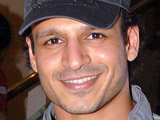 Vivek Oberoi
has said that films should be "bridges" sometimes rather than "mirrors".
The star can currently be seen in
Kismat Love Paisa Dilli
opposite Mallika Sherawat.
He told
IANS
: "I am a positive person. I like to focus on the positive side of humanity.
"I believe that films can be bridges and don't have to be mirrors. I like them to say something and leave people with a light of hope somewhere."
Kismat Love Paisa Dilli
centres on the romance between his character and Sherawat's city girl.
Oberoi recently admitted that he
was depressed after crime thriller Rakhta Charitra flopped in 2010
.
In February, he
joined the human trafficking awareness campaign YOU CAN FREE US
.
The 36-year-old was recognised
for his charitable work in India by magazine Forbes Asia last year
.