Celebrities
Adele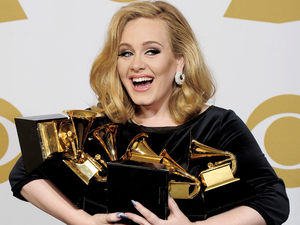 Occupation: Singer
Nationality: British
Born: May 5, 1988 (25)
Born Adele Laurie Blue Adkins but now known by her first name only, Londoner Adele was brought up by a single teenage mother, singing from the age of 4.

Attending the BRIT School with singers Leona Lewis and Jessie J, two years after graduating, her first album 19 won her the Brit Awards 'Critics' Choice', BBC Sound of 2008 and two Grammys as well as topping the iTunes album charts.

In 2011, her follow-up album 21, which was inspired by a recent break-up, was released to critical and commercial acclaim. An emotionally charged performance of 'Someone Like You' at the 2011 Brit Awards made the song a UK number one and brought her first album back into the charts.

The album helped her achieve a number of records and firsts including first living artist to have two top five albums and singles simultaneously since the Beatles, first artist ever to have a US No.1 album concurrently with three No.1 singles and 6th best-selling album in UK history.

Following a break to recover from throat haemorrhage surgery, Adele made her comeback at the 2012 Grammys where she became only the second female artist to win six awards. While she has stated her next album will not be released for about two years, rumours abound that she may be recording the soundtrack for the next James Bond film.