Celebrities
Dominic West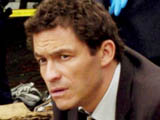 Occupation: Actor
Nationality: British
Born: October 15, 1969 (45)
Dominic West is best known for his portrayal of Detective Jimmy McNulty in the HBO television series, The Wire.

West made his screen debut in 3 Joes. Other film appearances include True Blue, Chicago and Mona Lisa Smile.

During is time on The Wire, West directed the episode "Took" in Season Five. The actor was praised for the accuracy of his character's accent in the series.

In 2011, West took on the role of the infamous serial killer Fred West in ITV drama Appropriate Adult. His physical resemblance to the murderer was noted during filming and other people working on the program sometimes found it difficult to approach him. West went on to win the 2012 BAFTA for Best Actor for his portrayal of Fred West.