Celebrities
Eminem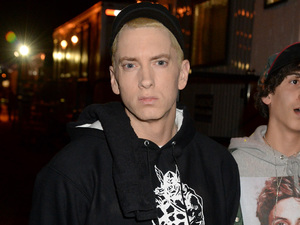 Occupation: Rapper, Actor
Nationality: American
Born: October 17, 1972 (42)
Marshall Mathers III - better known by the stage name Eminem - first came to prominence with the catchy and controversial rap single 'The Real Slim Shady' released in 1998. His debut became the first of seven top five hits in the Billboard Top 100 and the first of six UK number ones throughout the next decade.

Since then Eminem has had seven multi-platinum albums, sold more than 42 million tracks and 41.5 million albums in the United States, and nearly 90 million albums worldwide. He has won thirteen Grammy awards and even an Oscar win for his work on hip-hop drama 8 Mile.

Eminem was discovered by Dr. Dre in 1997 at a Rap Olympics competition where Eminem came second. In 2000 they released Marshall Mathers LP which saw great critical and public success. Eminem has since founded his own record label, Shady Records with his manager Paul Rosenberg. Eminem has been dubbed one of the most successful rappers of all-time.

However, his musical triumphs have often been tainted by the turbulent personal life that inspired them, and his drug addictions, legal issues and damaged relationships with his mother and ex-wife are frequently explored by the press as well as the rapper himself.