Makosi Musambasi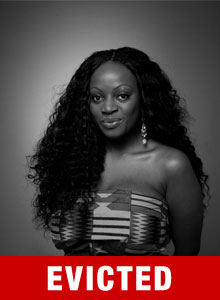 Current Status
Evicted
History
Day 1:
Enters
house
Day 2:
Acts
flirtatiously with Coolio
Day 2:
Breaks down
after being questioned by John on religion
Day 3:
Feigns
attraction to Coolio with Chantelle
Day 4:
Thinks
that the house is like therapy
Day 5:
Admits
that she is missing her phone
Day 7:
Faces eviction
Day 7:
Vents
about Ulrika's 'snideness'
Day 8:
Tipped
by bookies to get evicted
Day 9:
Remains
favourite for Friday eviction
Day 9:
Admits
that the world angers her
Day 9:
Given
task to be unpopular to housemates
Day 10:
Shares
date with BB6 Anthony as part of task
Day 10:
Pleased
at how her date with Anthony went
Day 10:
Questions
Nick over his bond with Victor
Day 10:
Rants
at Preston, Ulrika for not recognising her gratitude
Day 11:
Evicted
Age
: 29
Series
: Big Brother 6
What she's remembered for:
Upon her arrival to the house, Makosi responded to a call to the Diary Room, making her the 'unlucky 13th' housemate, meaning she had to get the most nominations from her housemates. By annoying her fellow housemates, she was successful in her secret challenge.
Makosi will forever be remembered for shocking the nation after claiming to have had sex with Anthony in the pool. She later revealed that she thought she might be pregnant and, at one point, even suggested naming the child Jacuzzi. Although Makosi was one of the favorites to win the show in the first five weeks, she finished the series in third place with 8.9% of the public vote and on her departure was given a hard time from the crowd and Davina.
Her life post-Big Brother:
Makosi has been in a relationship with her 49-year-old boyfriend for two years. He lives in Africa and she claims that's just the way she likes it. Since meeting him, Makosi says that she can no longer socialise with people her own age because they're not intellectual and mature enough. Makosi is currently unemployed (she doesn't need to work apparently) but she does support a lot of charities. She was praised by the Disasters Emergency Committee helping with the appeal following the South-East Asian tsunami and returned to Africa to make a film highlighting the positive aspects of her home continent.
In 2008, she featured in independent British film
Cash & Curry
alongside former housemate Kinga Karolczak and Faria Alam. The film went straight to DVD but she also had a cameo role in E4's
Dead Set
.
| | | |
| --- | --- | --- |
| Oct 22 2012, 15:59 | Showbiz | |
| Mar 12 2012, 14:03 | Media | |
| Mar 11 2012, 17:14 | Showbiz | |
| Feb 10 2012, 18:06 | Showbiz | |
| Feb 09 2012, 11:23 | TV | |
| Aug 09 2011, 13:20 | TV | |
| Jul 29 2011, 22:23 | TV | |
| Sep 10 2010, 16:59 | TV | |
| Sep 05 2010, 05:42 | TV | |
| Sep 04 2010, 18:48 | TV | |
| Sep 04 2010, 13:02 | TV | |
| Sep 03 2010, 23:56 | TV | |
| Sep 03 2010, 22:42 | TV | |
| Sep 03 2010, 16:50 | TV | |
| Sep 03 2010, 15:31 | TV | |
| Sep 03 2010, 15:17 | TV | |
| Sep 03 2010, 03:10 | TV | |
| Sep 03 2010, 02:24 | TV | |
| Sep 03 2010, 00:18 | TV | |
| Sep 02 2010, 21:24 | TV | |
| Sep 02 2010, 16:43 | TV | |
| Sep 02 2010, 16:41 | TV | |
| Sep 02 2010, 16:14 | TV | |
| Sep 02 2010, 15:58 | TV | |
| Sep 02 2010, 15:34 | TV | |
| Sep 02 2010, 13:46 | TV | |
| Sep 01 2010, 19:47 | TV | |
| Sep 01 2010, 19:20 | TV | |
| Sep 01 2010, 14:13 | TV | |
| Sep 01 2010, 13:16 | TV | |
| Sep 01 2010, 13:02 | TV | |
| Sep 01 2010, 12:13 | TV | |
| Aug 31 2010, 20:14 | TV | |
| Aug 31 2010, 12:11 | TV | |
| Aug 30 2010, 23:30 | TV | |
| Aug 30 2010, 21:54 | TV | |
| Aug 30 2010, 14:27 | TV | |
| Aug 28 2010, 21:41 | TV | |
| Aug 28 2010, 14:23 | TV | |
| Aug 28 2010, 14:15 | TV | |