Celebrities
Matthew Mcconaughey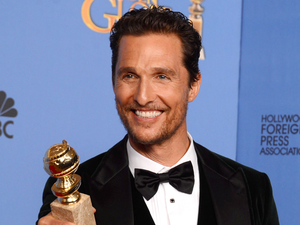 Occupation: Actor
Nationality: American
Born: November 4, 1969 (45)
Born in Texas, Matthew McConaughey began his acting career in 1991 featuring in student films and television commercials. It was after this that he was cast in his first major film- the widely successful Dazed and Confused.

His big break came in the 1996 film A Time To Kill, in which he played lawyer Jake Brigance.

He has since been cast as the lead in many films, and in the early 2000's he often starred in romantic comedies such as The Wedding Planner and How To Lose a Guy in 10 Days. In 2010 the actor also appeared as himself in Sex and the City, speaking to Sarah Jessica Parker's character Carrie Bradshaw about turning her newspaper columns into a movie.

In recent years McConaughey has enjoyed a career revival dubbed 'the McConaissance' in section of the media, seeing him move away from rom-coms and lighter roles towards gritty dramas. He received critical acclaim for his starring roles in The Lincoln Lawyer, Magic Mike and The Wolf of Wall Street, and earned further success starring alongside Woody Harrelson in HBO drama True Detective. He won numerous awards - including an Oscar - for his portrayal of Ron Woodroof in Dallas Buyers Club. McConaughey currently lives in Austin, Texas with his wife and two children.