Nikki Grahame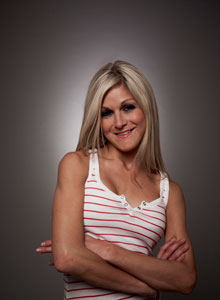 Current Status
Runner-up
History
Day 1:
Enters
house
Day 2:
Wins
£650 in 'Who Is She?' task
Day 2:
Breaks down
in tears over return to house
Day 4:
Opens
up about her eating disorder
Day 4:
Set
task to interview housemates
Day 4:
Cries
over her writing task
Day 4:
Says
that she and Coolio don't gel
Day 4:
Cries
after Coolio's joking
Day 5:
Admits
that she is missing her phone
Day 6:
Concerned
at how withdrawn Ulrika is being
Day 6:
Becomes
paranoid that she has upset Chantelle
Day 7:
Faces eviction
Day 9:
Thinks
that Ulrika has turned on her
Day 10:
Breaks down
over housemates' snoring
Day 10:
Criticised
by house for her snoring outburst
Day 10:
Reassured
by Ulrika over their relationship
Day 11:
Makes
up four-way race to win series
Day 11:
Becomes
PA for BB7 Pete as part of task
Day 11:
Pushed
to breaking point over PA task
Day 11:
Attempts
to uncover truth of Victor and Nick's 'BBLBC'
Day 11:
Saved
from eviction
Day 12:
Reveals
that BB has given her happiest memories
Day 12:
Admits
she wants to sleep in Vanessa's single bed
Day 13:
Criticises
BBLB presenter George Lamb
Day 13:
Says
that she wants Vanessa as her ghost writer
Day 13:
Said
by Brian that she deserves to be in final
Day 14:
Tells
Vanessa about her battle with anorexia
Day 15:
Has
odds on win shortened by bookies
Day 15:
Reveals
she feels ugly compared to other housemates
Day 15:
Admits
that she never liked BB7 Aisleyne
Day 16:
Upset
over gaining some weight
Day 17:
Reads
eulogy during Big Brother funeral
Day 18:
Has
final ever Big Brother tantrum
Day 18:
Finishes runner-up
Age
: 28
Series
: Big Brother 7
What she's remembered for:
Queen of the tantrum, Nikki's Diary Room histrionics remain unsurpassed by any Big Brother contestant since. Her famous rants and raves about being too cold, her need for bottled water and most memorably the arrival of Susie who won the golden ticket with her shout of "Who is she? Where did you find her?" burnt Nikki into the nation's brains.
She also formed an unlikely but endearing relationship with eventual winner of BB7, Tourette's sufferer Pete. They dated for a month after the show ended. She was evicted from the house on Day 58 with 37.2% of the vote but is one of only a handful of housemates to ever re-enter the Big Brother house. She was voted back into the 'House Next Door' with three other ex-housemates. She was then chosen to return to the main house by the surviving contestants and was reinstated as an eligible housemate. She subsequently finished in fifth place, with 6.5% of the final vote.
Her life post-Big Brother:
Due to her temper tantrums, Nikki was given her own reality show after leaving the house, titled
Princess Nikki
, which saw her attempting several jobs to see whether she would keep her job for the day or be sacked due to her infamous tantrums. She has also since appeared on
Celebrity Scissorhands, 8 Out Of 10 Cats
and
The Weakest Link
. She was also the 12th most 'written about' person of 2006 in the UK, according to a Channel 4 poll.
Nikki came back to Big Brother as a reporter for Big Brother's Little Brother 8, as part of 'The B Team' and additionally appeared in Big Brother 10 (2009) as part of the tenth anniversary celebrations, competing a 'Silent Disco' task against Karly. She has written a column for
OK Hot Stars
magazine since 2007 and will be writing her
News of the World
column from inside the house. She has written a book about her lifelong struggle with anorexia to help other sufferers, and now regularly DJs in clubs and bars around the UK.
| | | |
| --- | --- | --- |
| Mar 08, 11:34 | Showbiz | |
| Jan 22, 14:17 | TV | |
| Nov 12 2012, 16:48 | TV | |
| Jun 17 2012, 18:34 | Showbiz | |
| Jun 05 2012, 00:01 | TV | |
| Mar 01 2012, 16:28 | TV | |
| Jan 05 2012, 15:01 | TV | |
| Oct 26 2011, 13:40 | Showbiz | |
| Oct 19 2011, 21:34 | Movies | |
| Aug 17 2011, 07:00 | TV | |
| Jul 29 2011, 11:42 | TV | |
| Oct 13 2010, 13:36 | TV | |
| Sep 10 2010, 23:29 | TV | |
| Sep 10 2010, 22:52 | TV | |
| Sep 10 2010, 20:10 | TV | |
| Sep 09 2010, 19:44 | TV | |
| Sep 09 2010, 16:32 | TV | |
| Sep 08 2010, 21:45 | TV | |
| Sep 08 2010, 19:30 | TV | |
| Sep 08 2010, 13:46 | TV | |
| Sep 08 2010, 02:57 | TV | |
| Sep 07 2010, 23:22 | TV | |
| Sep 07 2010, 20:33 | TV | |
| Sep 07 2010, 15:17 | TV | |
| Sep 07 2010, 10:33 | TV | |
| Sep 06 2010, 20:18 | TV | |
| Sep 06 2010, 16:15 | TV | |
| Sep 05 2010, 23:59 | TV | |
| Sep 05 2010, 23:46 | TV | |
| Sep 05 2010, 21:42 | TV | |
| Sep 05 2010, 21:29 | TV | |
| Sep 05 2010, 16:50 | TV | |
| Sep 05 2010, 12:57 | TV | |
| Sep 05 2010, 12:50 | TV | |
| Sep 05 2010, 12:35 | TV | |
| Sep 05 2010, 02:05 | TV | |
| Sep 04 2010, 21:21 | TV | |
| Sep 04 2010, 16:48 | TV | |
| Sep 04 2010, 16:37 | TV | |
| Sep 04 2010, 14:44 | TV | |