Celebrities
Ricky Gervais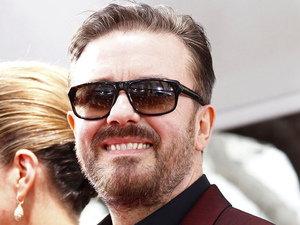 Occupation: Actor, Comedian
Nationality: British
Born: June 25, 1961 (54)
Ricky Dene Gervais is a well known British actor and comedian. He began his career in stand-up comedy in the 1990s to mixed reactions.
Gervais came to fame on
The Office
which he wrote, produced and starred in alongside Stephen Merchant, MacKenzie Crook and Martin Freeman. His next show
Extras
was also a critical success.
More recently, Gervais has starred in films such as
Ghost Town
and
The Invention of Lying
and has hosted the Golden Globes three times. He starred opposite Warwick Davis in
Life's Too Short
, and will soon be seen in
Muppets Most Wanted
alongside Tina Fey and Ty Burrell.