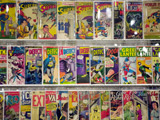 Edinburgh's Napier University has become the first institute in Britain to offer the academic study of comic books and graphic novels.
The university has incorporated the module into its masters level creative writing course. The subject will be taught by tutors with experience in the industry, including former
2000 AD
and
Judge Dredd Megazine
editor David Bishop.
"Some of the most exciting and innovative work emerges from genre fiction. We're embracing the kinds of creative writing that get ignored or patronised by other courses," Bishop said.
Programme leader and tutor Sam Kelly added: "We're expecting it to raise a few eyebrows, but so far the response from across the literary community has been overwhelmingly enthusiastic. Now we just can't wait to recruit our first intake of students and get to work."
In the wake of the course's foundation, Dundee University announced that it will also give students the opportunity to study comic books, incorporating the topic into its English degree.
Students in the US have studied comics and graphic novels for over a decade now, with renowned establishments such as Yale, Princeton and Brown hosting courses on the subject since the 1990s.