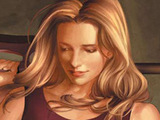 Celebrated
Buffy The Vampire Slayer
scribe Jane Espenson is returning to the Dark Horse series to pen a special one-shot.
Slated for release this summer, the issue explores the fate of Buffy's former love interest Riley Finn, who was last seen infiltrating the armies of the vampire Twilight.
"In the midst of the battle, Buffy's former flame, the demon-fighting soldier Riley Finn, seemingly in league with Twilight, was revealed as a double agent working for the Slayer army," read the publisher's solicitation.
"Now Espenson and artist Karl Moline (
Fray, Willow
) uncover the secrets of Riley's recruitment by Buffy, his infiltration of Twilight's inner circle, and what's become of [him] and his superspy wife Sam."
The one-shot arrives in stores on August 18.