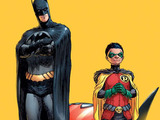 The winners of the 2010 Eagle Awards have been announced.
The awards were presented on Friday as part of London's MCM Expo.
DC Comics'
Batman and Robin
received three awards for 'Favourite Colour Comic Book - American', 'Favourite New Comic Book' and 'Favourite Cover Published During 2009' for its fourth issue.
Frank Quitely
, who has provided cover and interior artwork on the title, was also named 'Favourite Artist - Pencils'.
Other awards included 'Favourite Newcomer Writer' for Jonathan Hickman, 'Favourite Newcomer Artist' for Jamie McKelvie and 'Favourite Writer' for Warren Ellis.
2010 is the first year in which no awards were given to fictional characters.