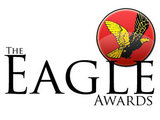 Nominations for this year's Eagle Awards have now opened.
Fans can vote for their favourite comics, artists and writers of 2010 by logging on to the event's website between February 4 and March 7.
The top five nominees in each category will then be verified and an overall winner voted on from March 17. Results are announced at the London MCM Expo on May 27.
"All nominees will be invited to the awards ceremony at May's London MCM Expo and the winners will be offered the opportunity to give an acceptance speech," said organiser Cassandra Conroy. "The full list of award winners will be released to the world May 27."
Founded in 1976, the Eagles is one of the comic industry's most prestigious fan-selected award shows. The event will be co-owned and co-organised by MCM Expo Group from this year.
To take part in the nominations visit eagleawards.co.uk.