2
Comics News
'Ultimate X-Men' return in new ongoing series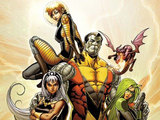 Marvel Comics
has released a preview of its new ongoing series
Ultimate Comics: X-Men
, which will launch as part of the company's
'Ultimate Comics Reborn'
initiative this September.
From the creative team of
Secret Avengers writer Nick Spencer
and
X-Men
artist Paco Medina,
Ultimate Comics: X-Men
will see some of the world's few remaining mutants band together for survival.
"Iceman, Kitty Pryde and the Human Torch discover the true history of the x-gene as the divide between mankind and mutantkind grows deeper than ever before!" a Marvel spokesperson said. "Who are the X-Men and how will they handle the fallout of this universe-shattering discovery?"
The 'Ultimate Comics Reborn' initiative began earlier this month with the conclusion of Brian Michael Bendis's 'Death of Spider-Man' story arc in
Ultimate Comics: Spider-Man
.
The September relaunch includes a new ongoing series called
Ultimate Comics: Ultimates
from Jonathan Hickman and Esad Ribic, a relaunch of
Ultimate Comics: Spider-Man
by Brian Michael Bendis and Sara Pichelli and a four-issue miniseries from Jonathan Hickman and Rafa Sandoval called
Ultimate Comics: Hawkeye
.
Ultimate Comics: X-Men
#1 is due out on September 14.