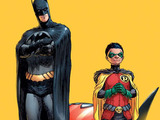 DC Comics
has announced new absolute editions for
Green Lantern: Sinestro Corps War
and
Batman and Robin: Batman Reborn!Green Lantern
's 'Sinestro Corps War' featured the work of
Geoff Johns
, Dave Gibbons, Peter Tomasi, Ethan Van Sciver, Ivan Reis, Patrick Gleason and Angel Unzueta and saw the Green Lantern Corps rocked by changes when it faced off against the
yellow lanterns
.
Grant Morrison's
Batman and Robin
story centres around Dick Grayson and Damian Wayne as they take up the mantles of the famous pair.
It featured illustrators Frank Quitely, Philip Tan, David Finch, Cameron Stewart, Andy Clarke and Frazier Irving across its various arcs.
The books collect
Green Lantern
#21-25,
Green Lantern Corps
#14-19 and
Green Lantern: Sinestro Corps Special
#1 and
Batman and Robin
#1-16 and
Batman: The Return
respectively.
The books were
both unveiled
on DC's blog
The Source
.
It is unusual for absolute editions to collect a story arc featuring multiple writers and artists, ordinarily focusing on a single creative team.
Absolute Green Lantern: Sinestro Corps War
will be released in September 2012 and
Absolute Batman & Robin: Batman Reborn
will follow in November 2012.