0
Comics News
'Before Watchmen: Comedian' #3 review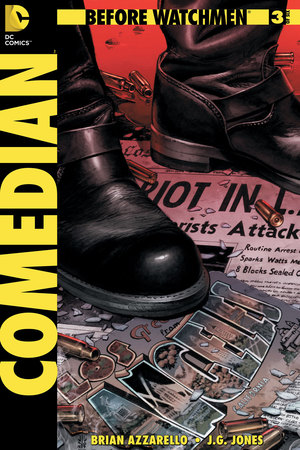 In the latest of
Digital Spy
's comprehensive series of reviews of
DC Comics
'
Before Watchmen
prequels, we take a look at
Comedian
#3.
Who's it by?
Before Watchmen: Comedian
#3 is written by
Brian Azzarello
and pencilled by JG Jones.
The Curse of the Crimson Corsair
back-up is written by Len Wein and drawn by original series colourist John Higgins.
What happens?
Comedian
#3 shines the spotlight on the race riots and anti-war protests that rocked America in the late 1960s. The issue begins with a telephone conversation between Bobby Kennedy and Eddie Blake, and quickly reverts to a series of flashbacks depicting the protagonist in the thick of those events.
Blake has a run-in with angry anti-war protestors, comes close to breaking point during a race riot, and throws dog excrement into the face of a racist police chief. The issue does little to advance the overarching story, but sheds light on the Comedian's role in some of the historic events that took place in the series's alternate timeline.
What's the verdict?
Comedian
#3 does its best to provide a dark social commentary tackling heavy subject matter like social upheaval and the Vietnam War. In fairness to writer Brian Azzarello, he deals with these issues well and pulls no punches, but this comes at the expense of a compelling narrative.
The biggest problem with the previous two issues is they began chipping away at the ambiguity surrounding Eddie Blake, an aspect of the character that served him well in the iconic 1986 series. Issue #3 doesn't commit this sin quite as blatantly, with Azzarello choosing to explore the character's warped sense of humour and how it serves as his defence mechanism.
The writer even goes as far as to hint that Blake wasn't all bad until the historic events depicted corrupted him beyond the point of no return, an argument which flies in the face of what we know of the sociopathic vigilante from his days in the Minutemen.
Comedian
#3 does little to advance the overarching story, spending much of its time in flashback mode. It feels like Azzarello got too bogged down with social commentary that he forgot he has a story to tell, and thus the narrative feels like an afterthought. Blake's dialogue comes across as a mixed bag. At times, it helps paint a picture of America during dark times, while at others it's trite and almost crass.
JG Jones's artwork manages to impress despite some unimaginative page layouts. His gritty realism and muted colours fit the tone well and capture the Zeitgeist of an America on the brink of turmoil.
In summary, Azzarello deserves some credit for dealing in such sensitive issues as war and social upheaval without compromise, but there's still a sense of the reader learning things about the protagonist that are better left unknown, and this issue in particular falls flat in the storytelling stakes.

> Buy the digital version of Before Watchmen: Comedian #3
> Read our review of 'Before Watchmen: Comedian' #2
> Read our Before Watchmen interview with Dan DiDio
Watch a trailer for
Before Watchmen
below: