Each week,
Digital Spy
rounds up the biggest mobile gaming releases with reviews and trailers. This week's games include pirates on the high seas, pears with beards and collectible
Dragon Age
characters.
Assassin's Creed: PiratesReviewed on:
iPhone 4S, iPad 3
Platforms:
iPad, iPhone, Android
Price:
£2.99 / $4.99
Assassin's Creed: Pirates
gives gamers an odd spin-off of
Assassin's Creed 4: Black Flag
that focuses exclusively on sailing.
Rather than tying into the console game's plot,
Pirates
stars new protagonist Alonzo Batilla. A prisoner at the start of the game, Batilla is quickly freed by notorious pirate La Buse, who promptly and inexplicably gives Batilla a ship of his own.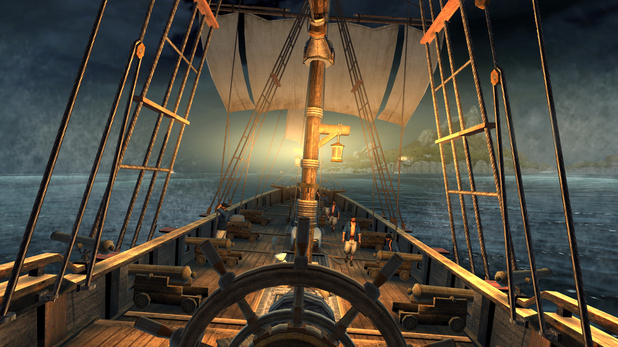 The plot is utter nonsense, and mercifully the game mostly ignores its flimsy pretense of a story to simply let players sail around plundering ships, finding treasure and just generally being a pirate.
While you can sail at the helm of your ship, steering with an on-screen wheel, most navigation is handled from an overhead view by tracing a sailing route on the map with your finger.
The map is peppered with missions you can take on, most of which pit you against another ship in a battle of cannon fire.
Unfortunately, the ship battles aren't as gripping as their
Black Flag
counterparts, as each ship essentially takes turns firing until the other sinks.
During your enemy's turn you can dodge to the left or right to avoid cannon fire, and during your own turn it's possible to aim your cannons by dragging a reticule with your finger. But in the end, every battle plays out pretty much the same.
Some missions will mix things up and task you with stealthily navigating to a target ship before engaging it in battle, while other missions might offer a checkpoint race. The variety is appreciated, but ship battles are clearly the main attraction.
Completing missions will earn you resources, gold and experience to level up, which in turn lets you upgrade your ship and hire new crew members that offer perks like a burst of sailing speed or better effectiveness when battling under certain weather conditions.
Earning levels will also unlock new maps, since the game is broken up into several sections of the sea instead of a single open world.
Sailing around the ocean and discovering treasure is fun, but the ship battles that make up a majority of the experience wear thin quickly. And with a mostly uninteresting story and thin connections to the
Assassin's Creed
series proper,
Assassin's Creed Pirates
is just floating dead in the water.

Download Assassin's Creed Pirates from the App Store
Download Assassin's Creed Pirates from the Google Play Store
Read More...
Click to see and add comments

0