2
Fun News
Million dollar note rejected at Walmart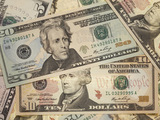 A man has been arrested at a Walmart in North Carolina after attempting to buy items with a million dollar note.
Police revealed that the man insisted the bill was real after trying to buy $476 (£306) worth of goods, according to the
Winston-Salem Journal
.
Investigators explained that Michael Fuller, 53, was trying to purchase a vacuum cleaner, a microwave oven and other items before store employees called the authorities.
Fuller was charged with 'attempting to obtain property by false pretence and uttering a forged instrument', and is currently in jail on a $17,500 (£11,300) bond. He is expected to attend court tomorrow (January 3).
The largest dollar bill is currently $100 (£64). Notes up to $10,000 (£6,400) were stopped in 1969.
> Man gives wife dollar for each day of marriage