0
Fun News
Group of friends jump into 'world's biggest leaf pile' - video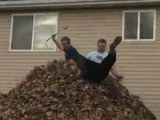 A group of friends have jumped into what they claim is the world's biggest pile of leaves.
The three friends hired a truck which they drove around in Logan, Utah, collecting 1,462 bin bags full of leaves for the stunt.
Claiming that they had collected "every leaf in Utah", they began to make a pile that was 17ft high and 60ft in circumference.
The friends then took to YouTube to post the stunt.
They said: "Before all of you start commenting on how you don't think it's 17ft, obviously it got shorter with each jump."
Watch the video below:
> Pensioner threatened with jail for sweeping leaves outside home
> Santa left dangling from ceiling at shopping centre - video