1
Fun News
David Attenborough, Chris Packham back badger Christmas number one bid
David Attenborough
and Chris Packham have given their backing to a new Christmas single in support of the Badger Trust.
Others involved in 'The Present of Life' - a collaboration with eco fashion brand Rapanui - include Paul Topping, Rob da Bank, Michael Fish, Katy Thorogood, Andy Booth and Jason Paine.
The track is released via iTunes on December 7, with all proceeds donated to the Badger Trust.
Attenborough, whose voice features in the single, said: "The government commissioned a scientific study into culling 11,000 badgers.
"And the results of that independent scientific study were that culling is not a viable policy option."
Packham added: "The battle for the coveted Christmas number one spot is always tough but one we are ready for.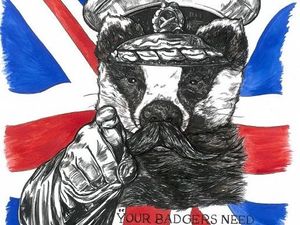 "It will be difficult going up against
The X Factor
but we'll give it a good shot. It would be an amazing achievement."
Fans are also urged to sign Brian May's petition to back the campaign and buy a T-shirt.
Jeff Hayden of the Badger Trust said: "Young people are the future. They will inherit the earth and our responsibilities to it.
"This charity single and T-shirt collaboration is a great chance for us to bring the conservation of Badgers, plus wildlife conservation in general, to a young, energetic audience. That can only be a good thing."