1
Fun News
Top 40 most popular New Year's resolutions for 2013 revealed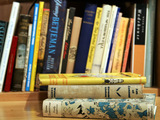 Reading more books has topped a list of most popular New Year's resolutions, according to a survey.
The poll conducted by LA Fitness asked 2,000 people what their aims for 2013 are.
Saving money and losing weight are the second and third most common resolutions respectively, ahead of redecorating and taking better pictures.
Spending less time on Facebook is 16th, while lower down are eating less chocolate (20th), drinking less alcohol (22th) and quitting smoking (26th).
LA Fitness marketing director Tony Orme said: "The traditional resolutions we're used to hearing or even making ourselves are less prominent this year.
"It's clear that the majority of people are really feeling the pressures of a hectic lifestyle, so are now trying to focus on making more time for themselves, their friends and family.
"But it's important to remember that taking time to exercise and eating a balanced, healthy diet not only give you more energy, but they also help to manage stress levels."
> Over half of Britons to shun New Year's Eve?
> New Year's resolutions deemed unhealthy
Read the list of New Year's resolutions below:
1.
Read more books
2.
Save more money
3.
Lose weight
4.
Redecorate
5.
Take better photos
6.
Go travelling
7.
Sell old unwanted stuff on eBay
8.
Buy a tablet
9.
Organise photos
10.
Do something for charity
11.
Spend more time with kids
12.
Buy a Sunday paper
13.
Less TV time
14.
Connect my computer to my TV
15.
Leave work on time more often
16.
Less time on Facebook
17.
Totally revamp my wardrobe
18.
Try a new hairstyle
19.
Get a six-pack
20.
Eat less chocolate
21.
Socialise more in real life rather than Facebook
22.
Drink less alcohol
23.
Buy less coffee from Starbucks/big chains
24.
Start my own business
25.
Tell someone I have feelings for them
26.
Quit smoking
27.
Gain a promotion
28.
Learn how to use Twitter
29.
Run a half or full marathon
30.
Call people more than text
31.
Cut someone out of my life who isn't good for me
32.
Meet online contacts in real life
33.
Watch less reality TV
34.
Text people less
35.
Try to save relationship
36.
Try extreme sports
37.
Get better at social networking
38.
Stop contacting/going back to an ex-partner
39.
Have a face-to-face with my boss to find out where I stand
40.
Do a bungee jump