Each week,
Digital Spy
rounds up the biggest mobile gaming releases with reviews and trailers. This week's games include a haunting space odyssey, party animals at the zoo and challenging go-kart monsters.
Out ThereReviewed on:
iPad 4
Platforms:
iPhone, iPad, Android
Price:
£2.49 / $3.99
Out There
offers an experience that captures both the excitement of discovery and haunting loneliness of interstellar travel.
Players take on the role of an astronaut stranded several galaxies from home as he jumps from star system to star system on his journey to find Earth again.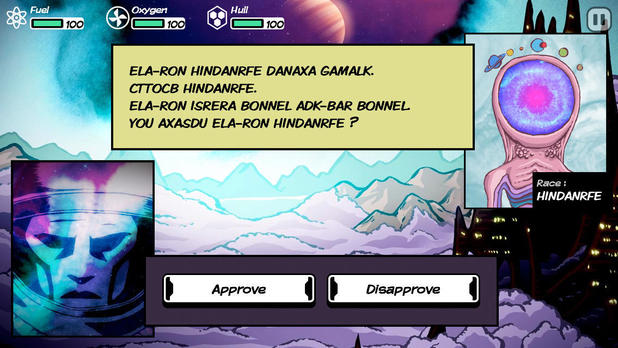 Mechanically,
Out There
is a game of resource management, as you expend fuel, oxygen and hull integrity for every action, like travelling or mining a planet for gasses and metals to replenish your resource reserves.
However, that careful resource management also needs to be tempered with natural curiosity.
Do you explore or ignore an asteroid field that may or may not be a vast ore deposit? Do you engage with alien races in hopes of finding new technology, or steer clear since you don't know their language and may accidentally start a war?
While its premise is similar to
FTL
, there is no combat in
Out There
, with any violence that may occur taking place only in text and through your depleting resources.
The lack of combat shifts the focus squarely to your decisions as the ship's captain, and the unpredictable consequences those decisions may have.
Out There
is a game about controlling what you can, and adapting to what you can't, as a new story unfolds with each jump across the stars.

Download Out There from the App Store
Download Out There from the Google Play Store
Read More...
Click to see and add comments

0