First Released:
2004 (PS2)
Now Available On:
N/A
Katamari Damacy
is one of the strangest things to emerge from Japan in the last ten years, and that's saying something considering the nation's penchant for radioactive monsters and love hotels.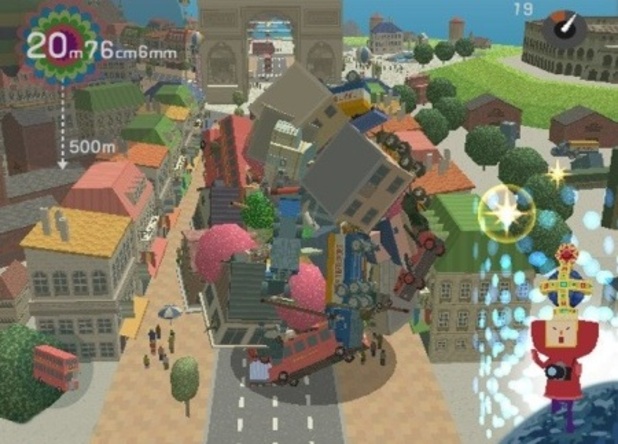 This oddball puzzler - which celebrates the tenth anniversary of its US launch this week - casts players as a celestial prince tasked with rebuilding the stars, constellations and moon after his father, the King of all Cosmos, accidentally destroyed them.
To achieve this, players rolled a giant adhesive ball called a katamari around various earthly locations, collecting a little bit of everything until there were enough raw materials to create a star.
Everything from thumbtacks to people, and even mountains, were swept up by the katamari. It was an unapologetically weird experience, but also one of the most original and fun puzzlers to appear on the PlayStation 2.
Each level was a race against the clock, with players forced to grow their sticky sphere to a specific size before the timer ran out, but some stars required them to gather specific items.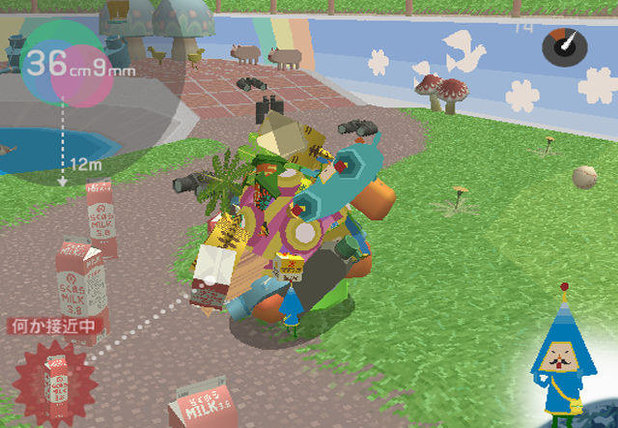 The katamari was controlled exclusively using the PS2 controller's thumb sticks, operating in tank-like fashion. It was a simplistic interface, and that was paramount to
Katamari Damacy
's appeal.
The game offered a similar pick-up-and-play draw to a physical toy, and players often ignored the core objectives in favour of setting their own, attempting to grow the katamari to a specific size or mould it into a certain shape.
Katamari Damacy
's single-player mode had a palpable sense of scale, starting off inside a Japanese home, before venturing out into the back yard, and then downtown. Before you knew it, you were uprooting trees and moving mountains with your sticky ball.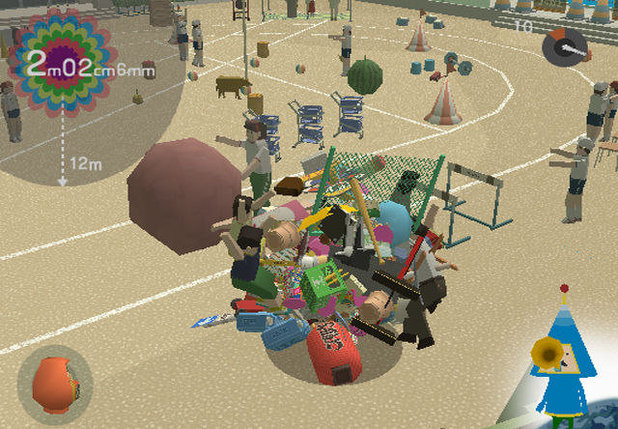 Everything about the game was uniquely Japanese, from its quirky dialogue (some of which was lost in translation) to the punchy synthesized J-pop numbers on its soundtrack.
It came along at a time when the Western world had started to embrace Asian pop culture and celebrate its oddities, and this helped it rapidly become a cult hit when publisher Namco brought it to the US in September 2004.
The game was extremely well received in North America, winning numerous design awards an quickly moving all of the limited stock ordered by short-sighted retailers, who underestimated its popularity.
Namco chose not to release
Katamari Damacy
in Europe, believing it was too quirky for mainstream acceptance in the territory, but stateside success convinced Electronic Arts to take a gamble on its sequels,
We Love Katamari
and
Me & My Katamari
, bringing them to the region in 2005 and 2006 respectively.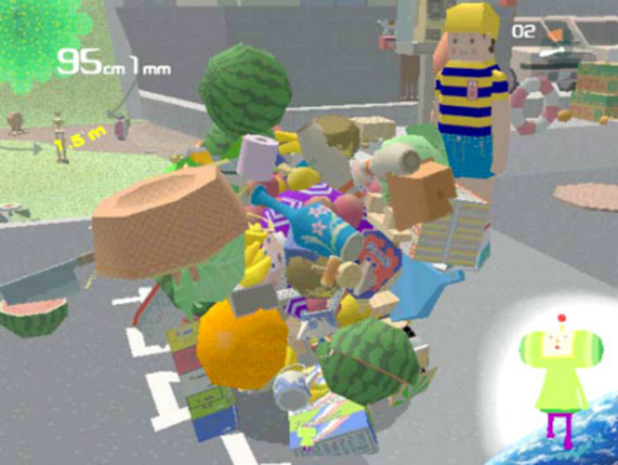 Although the series went on to appear on the PlayStation 3 in 2009, it has since found a natural home on mobile devices and handheld consoles, though the general consensus among reviewers is that these portable offerings lack the magic of the early PS2 titles.
Katamari Damacy
's Prince protagonist later enjoyed a stint as Namco mascot, alongside the legendary Pac-Man, an honour that came with cameo appearances in titles such as
Pac-Man World Rally, Noby Noby Boy
, the
Taiko no Tatsujin
series.
The more recent mobile releases may not have reached the same lofty standards as he original
Katamari Damacy
, but it should always be remembered as one of the most original titles on the PS2 and an example of what can be achieved by thinking outside of the box.
Do you have any fond memories of Katamari Damacy? Post a comment below!
Click to see and add comments

1