Gaming News
'Guitar Hero' action figures in development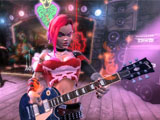 Games publisher Activision has signed a deal with a US toy company to produce a range of action figures based on its best-selling music game
Guitar Hero
.
McFarlane Toys will produce a series of collectible figures, with the first comprising popular
Guitar Hero
characters Johnny Napalm, Lars Ümlaut, Axel Steel and God of Rock.
The US-based firm will release the six-inch action figures in November, with each one featuring up to 18 moving parts, the
Guitar Hero
logo and an interchangeable guitar.
Activision has yet to confirm whether the figures will be launched in the UK.