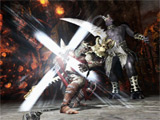 Visceral Games
has confirmed that a playable demo for new IP
Dante's Inferno
will be launched soon for Xbox 360 and PS3.
Available next month on Xbox Live and PSN, the
Gates Of Hell
demo will cover the entire opening level of the hack-n-slash action game.
Based on Dante Alighieri's classic poem
The Divine Comedy
, the game sees players take on the role of Dante as he fights through the nine circles of Hell - limbo, lust, gluttony, greed, anger, heresy, violence, fraud and treachery.
In the demo, players will have to defeat Death in order to win his scythe and holy cross before ripping open the gates of Hell. The taster also includes two short movies created by the Blur digital animation studio.
"Our main goal from the start of this project has been to create a journey that will make gamers truly feel like they are going through hell," said the game's executive producer Jonathan Knight.
"The demo will give everyone some insight into how we are treating the story and a taste of the gameplay. And with nine more circles of hell to explore once the game comes out in February, we are literally just scratching the surface."
Dante's Inferno
will be released on February 9, 2010 for PS3, Xbox 360 and PSP.