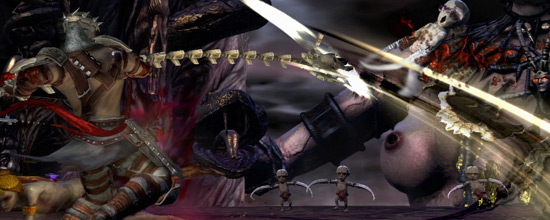 As the video games industry rapidly comes of age like an ungainly teenager emerging wide-eyed into adulthood, it's heartening to see more developers drawing on a richer cultural palette than just guns and scantily clad maidens. Enter
Dante's Inferno
, the new IP from
EA
studio Visceral Games, which takes its inspiration from classic 14th century poem
The Divine Comedy
. Written by Italian Dante Alighieri between 1308 and 1321, the poem had a profound effect on Christian beliefs around the afterlife, particularly the meaning and imagery of eternal damnation. So
Digital Spy
swallowed its sins and jumped through the gates of hell to see how Visceral is transforming such a revered literary masterpiece into a punchy game experience.
Dante's Inferno
is loosely based on Inferno, part one of
The Divine Comedy
, which depicts Dante's journey through the nine circles of hell. A playable demo for the game will be released for PS3 on December 10 followed by Xbox 360 on December 24 (there are no plans, though, for a PSP demo). Covering the opening part of the game, the demo depicts Dante returning home to discover that his lover Beatrice Portinari has been murdered and dragged to Hell by Death. Players then take control of Dante as he battles the Grim Reaper before starting his journey into the fiery depths to save his stricken lover.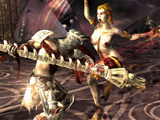 In Hell, Dante must fight through the nine circles - limbo, lust, gluttony, greed, anger, heresy, violence, fraud and treachery - to rescue Beatrice. Each circle will bring different types of horrors for the player to contend with, including disgorged, vomiting monsters in gluttony and a living golden statue in greed. Players will also have to defeat a range of fearsome and legendary bosses, including Cerberus, King Minos and Lucifer himself, before the hellish journey reaches its conclusion.
Speaking about the development,
Dante's Inferno
executive producer Jonathan Knight said that the "most challenging" aspect has been adapting such a revered piece of historical literature. He explained that the poem addresses largely philosophical and theological ideals rather than having a specific narrative. Despite staying as faithful as possible to Alighieri's geography of Hell, including its settings, characters and monsters, Visceral had to create a whole new story to underpin the game.
To create a compelling narrative, the team
turned
to screenwriter Will Rokos, who received an Oscar nomination for 'Best Original Screenplay' in 2001 for
Monster's Ball
. Rokos worked hard to reimagine Dante as a "flawed hero with a dark past" who is on a mission to save his beloved Beatrice. Knight explained that Dante's transformation as a character was a key part of the game's development.
"Dante from history is more of a poet, but we wanted to reimagine him as a warrior. So we crafted a new story - it's still Dante, it's still Beatrice, it's still Lucifer and it's still Virgil (the Roman poet who acts as Dante's guide in the underworld) - but the stakes are much higher," he said. "Beatrice has to be rescued from Hell as she's been kidnapped, and Dante has this dark past. We crafted a series of sins, transgressions and betrayals that he's committed in his past, and so has to face in Hell. So the game takes this dark turn as we find out more about him. I would say that the most challenging thing in the development was to reinvent Dante Alighieri as a dark action figure."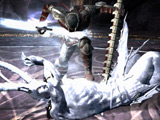 Dante's reinvention is particularly felt in the "fast-paced, responsive and rewarding combat" of
Dante's Inferno
. The third-person action game draws instant similarities with the
God Of War
franchise due to its mix of button-mashing brutality and platform sequences in lush surroundings. After Dante defeats Death at the Gates Of Hell during the opening level, he wins the Reaper's scythe to dole out punishment during the harsh trials ahead. However, Dante also has a holy cross weapon, which fires out a blinding white glow to represent his divine mission to bring light to the underworld.
Players are able to condemn or absolve vanquished enemies to earn unholy or righteous points respectively and upgrade their character skills. Knight explained that the duality of dark and light in Dante's character will play a major part in the gameplay.
"It's really about that duality of the unholy warrior, the badass, the brutal fighter and then the holy side," he said. "As a player, you start to choose throughout the game whether you're going to do more holy moves and absolve your enemies, or if you're going to use the scythe in a more punishing fashion. That also feeds into the upgrades, the magics and the relics, which are holy and unholy. So the whole system is about upgrading one side or the other, or both. It's that duality of moral choice which really defines the gameplay in
Dante's Inferno
."
Visceral Games recently showed off action sequences from the Lust circle of Hell, as Dante battles a giant topless boss called Cleopatra. Players must race up a phallic tower, frantically fighting off the boss with scythe and cross as they gradually ascend. Really bringing alive the hell experience for the player has required carefully crafting a rich art style which taps into the horrors of the underworld. Towards the aim, Knight revealed that the team reviewed every artistic depiction of hell since
The Divine Comedy
was written almost 700 years ago.
Knight referenced storied works such as Sandro Botticelli's drawings, the subversively unsettling paintings of Dutch artist Hieronymus Bosch and Rodin's sculpture of the
Gates Of Hell
. However, he explained that the most important person in shaping the game's visual interpretation of the Inferno has been artist Wayne Barlowe. The studio made contact with Barlowe in the early stages of pre-production after seeing how his artistic imagination has influenced various Hollywood fantasy movies.
"He's designed the creatures for the
Hellboy
and
Hellboy 2
movies, and
Harry Potter
, and he's also working for Guillermo Del Toro on
The Hobbit
," said Knight. "He's just this crazy, brilliant artist who has been painting Hell for the past 15 years. He has a very twisted and unique vision. We partnered with him at the very beginning and he did a bunch of sketches for us which were really the inspiration for what you see in the game today."
Dante's Inferno
will be released on PS3, Xbox 360 and PSP in Europe on February 12, 2010.